PIEZO2021: Piezoelectrics for End Users XI
Feb 21-24, 2021 | University of Sassari, Italy
12/04/2021. The slide presentations and e-posters are now available at this link
Here the link to attend the Winter School (registered  participants received the password by email) 
NEWS (21/02/2021): The final agenda is now here available   
 NEWS (18/09/2021) : Due to the COVID-19, and for the safety of our participants, the new edition of the Winter Conference PIEZO2021: Piezoelectrics for End Users XI will be held Online 
Learn More
Registration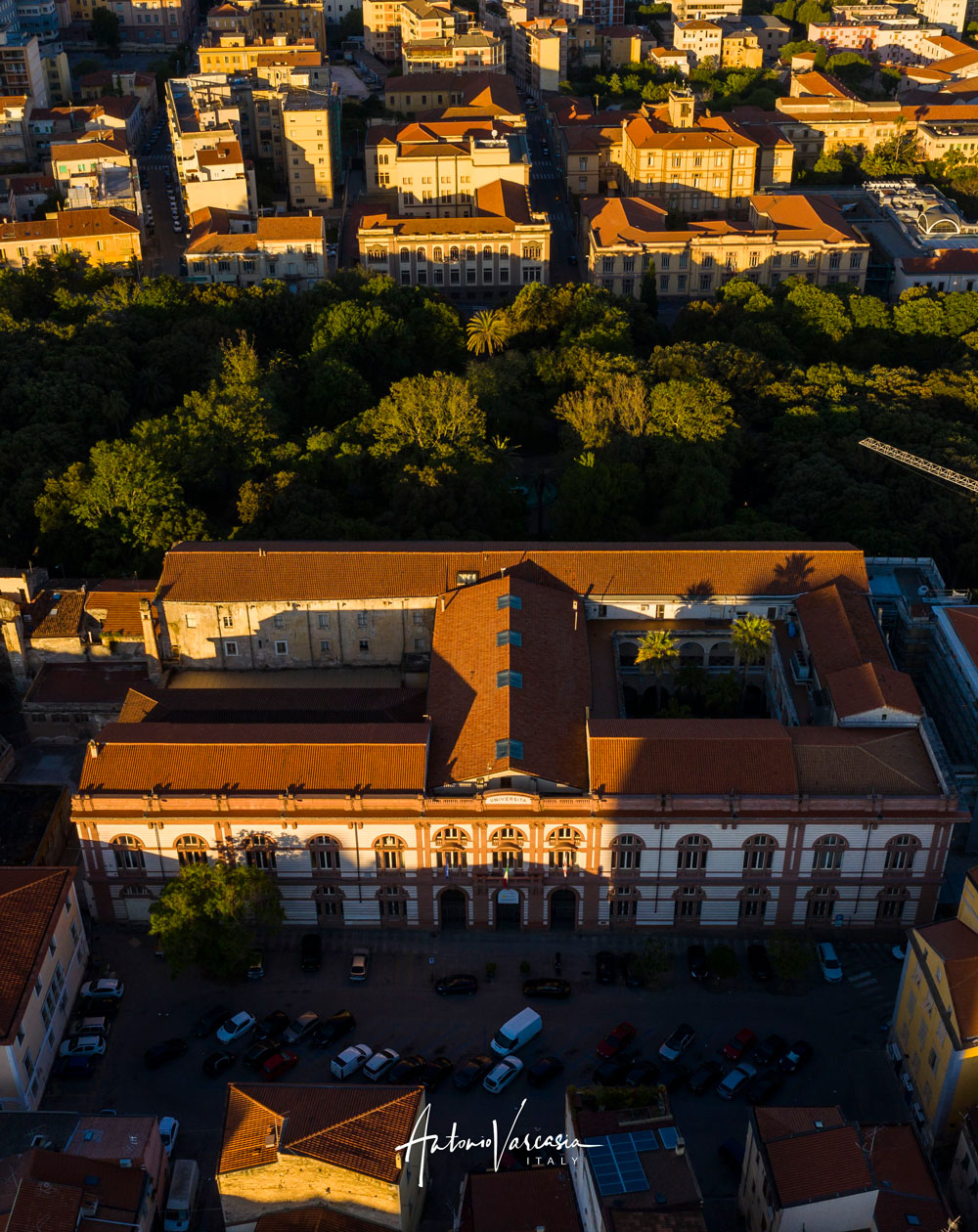 Welcome from the Chairs
On behalf of the organizing committee, it is my great pleasure to invite you to the XI International Conference PIEZO2021 and the related Winter School, organized by University of Sassari and Piezo Institute. This conference will be held in ONLINE from February 21 to February 24, 2021. The previous editions of the conference can be visualized here.
Due to the health conditions related to the coronavirus and to guarantee the safety and well-being of all conference attendees, the conference will be held ONLINE. The aim is to make this event an international forum for discussion, knowledge exchange and fruitful interactions among participants in this exponentially growing field.
We look forward to meeting you all online!
Dr. Sebastiano Garroni, Dr. Carmen Galassi and Dr. Guy Feuillard  
PIEZO2021 Chairs 
Stakeholders from academia and industry as well as from governments and research institutes are welcome to join this event and share their findings on various topics related to materials, such as:
Piezoelectrics, ferroelectrics, relaxors, tunable materials
Lead-free ferroelectrics and piezoelectrics
New processing techniques: bulk, thick and thin films, LTCC, integration, lithography-free deposition methods, flexible substrates, multilayers, etc.
Advanced and innovative structural, piezoelectric and mechanical characterization
Materials and devices for high frequency ultrasonic medical imaging and other biomedical applications
Energy harvesting concepts and devices, energy storage using antiferroelectrics
Actuators (for ink jet printers, fuel injection etc.)
Photo-ferroelectrics
Raw materials avoiding environmentally aggressive conditions
Green manufacture of ceramics, chemical routes avoiding toxic precursors, such as colloidal sol-gel, freeze drying, chemical routes, etc.
Additive manufacturing of oxide advanced ceramics
Electrocalorics, photovoltaics, and thermoelectrics
Theory and modeling
Winter School
The Winter School, organized on Sunday 21, before the conference, aims at providing a deep understanding of fundamentals of porous piezoceramics, with a particular focus on the synthesis and characterization aspects
Preliminary Conference Schedule
February 21-24, 2021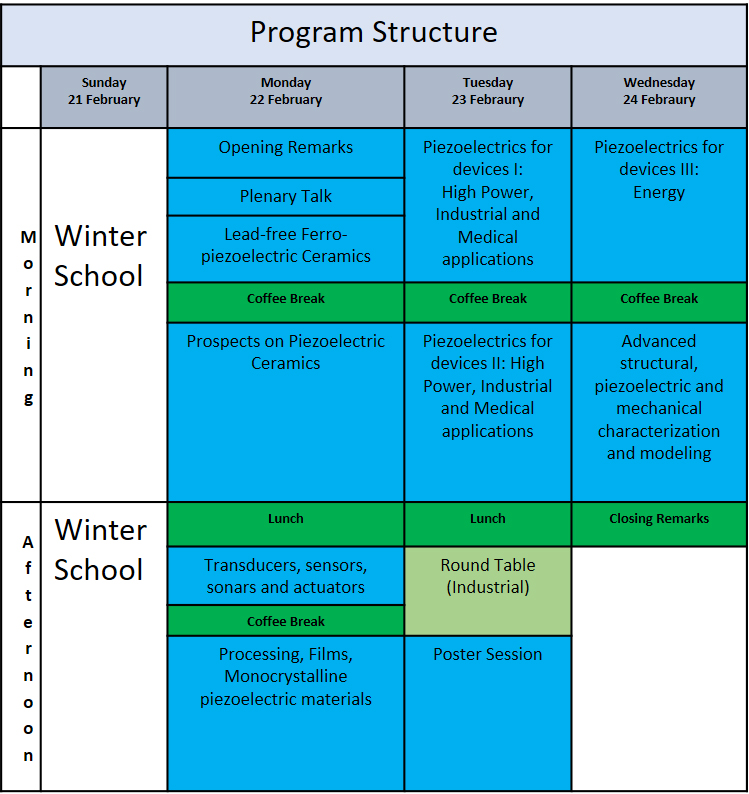 Organizers:
Sebastiano Garroni (Chair)
Guy Feuillard (Co-chair)
Carmen Galassi (Co-chair)
Local committee (UNISS)
Gabriele Mulas
Stefano Enzo
Plinio Innocenzi
Luca Malfatti
Davide Sanna
Antonio Iacomini
Alessando Taras
Valeria Farina
Luca Cappai
Costantino Cau
Marcella Garroni
International Steering Committee
Lorena Pardo – Instituto de Ciencia de Materiales de Madrid  CSIC (Spain)
Wanda W. Wolny – MEGGITT A/S (Denmark)
Alexandr Dejneka – Institute of Physics ASCR (Czech)
Marc Lethiecq – University of Tours (France)
Nava Setter – Ecole polytechnique federale de  Lausanne (Swiss)
Barbara Malic – Jožef Stefan Institute (Slovenia)
Andris Sternbergs – University of Latvia (Latvia)
Dragan Damjanovic – Ecole polytechnique federale de  Lausanne (Swiss)
Erling Ringgaard – MEGGITT A/S (Denmark)
Henrik Raeder – SINTEF (Norway)
Amador Miguel González-Crespo – Universidad Politecnica de Madrid (Spain)
Franck Levassort – University of Tours (France)
Marina Tjunina – Institute of Physics ASCR (Czech)
Kyle Webber – Friedrich-Alexander-Universität Erlangen-Nürnberg  (Germany)
Guylaine Poulin-Vittrant – University of Tours (France)
Sandy Cochran – University of Glasgow (United Kingdom)
Franz Schubert – PI CERAMIC (Germany)
Maxime Bavencoffe – INSA CVL Centre Val de Loire (France)
Guylaine Poulin – University of Tours (France)
Pascal Marchet – University of Limoges (France)
Jiri Erhart – Technical University of Liberec (Czech)
Sylvia Gebhardt – Fraunhofer Institute for Ceramic Technologies and Systems (Germany)
Why should you attend the Piezo2021 conference?»
Submit your brief comment using the form on the side and our team will respond to you as soon as possible!
Sponsors
Thanks to our sponsors for making this possible and so successful
Subscribe for Events Update