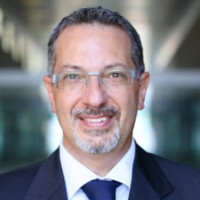 Luca Polizzi: 20 years of activity in policy analysis and research programmes' design and implementation, science and climate diplomacy advocacy, strategic partnership building, governmental and international affairs (EU-Third Countries Joint Science and Technology Committees) . Policy and funding portfolio comprised of industrial technologies, medical technologies, public health, renewable energy, advanced materials and nanotechnology, including nanosafety (EUON).
Expert in EU, US, and Saudi policy and funding programmes: strategy development, programme design, partnership building, award monitoring and evaluation, financial management, fundraising, and external engagement, e.g. EU – FP7, Horizon 2020, ERC, EIT, EDF (IPA, ENI, DCI); US – NIH & NSF; Saudi Arabia – KAUST & KACST. Expert in programmes' evaluation, impact assessment, and research landscape analysis (Scopus, SiVal, R, VosViewer, and PSPP).
Expert negotiator for policy design, integrated projects submission and management (consensus building, resource mobilization, and public-private joint undertakings); e.g. development of three multi-million bids in the health sector – Innovative Medicine Initiative (IMI) and European Institute of Innovation and Technology (EIT).